Overview of Services
The Neurochemistry Core is a Vanderbilt University Shared Resource supported by the Vanderbilt Brain Institute and the Vanderbilt Kennedy Center. The Neurochemistry Core was established in 1999 to serve as a central location on campus for the quantification of monoamine neurotransmitters using HPLC with electrochemical detection (ECD). The Core now serves investigators worldwide, measuring a variety of small molecule neurotransmitters using ECD as well as advanced mass spectrometric techniques. Please see below for a detailed description of offered services.


If you are seeking to measure a neurotransmitter or related compound that is not listed, please contact the Core to discuss.
We look forward to working with your lab!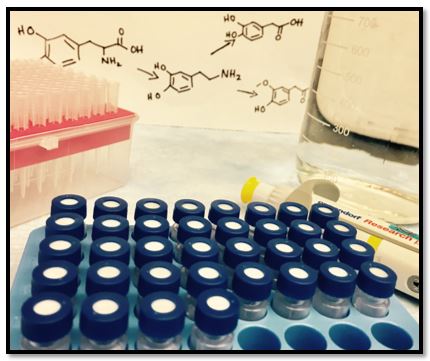 Leadership
Ginger L. Milne, Ph.D
Research Associate Professor
(615) 936-5611
562 PRB
Staff
Benlian Gao, Ph.D
Core Research Assistant III
(615) 322-4496
560 PRB
Hours of Operation and Location
Hours
Location

M-F, 8:30 AM to 5:00 PM


Preston Research Building - 560
2100 Pierce Avenue
Nashville, TN 37232-6602
Links and Resources